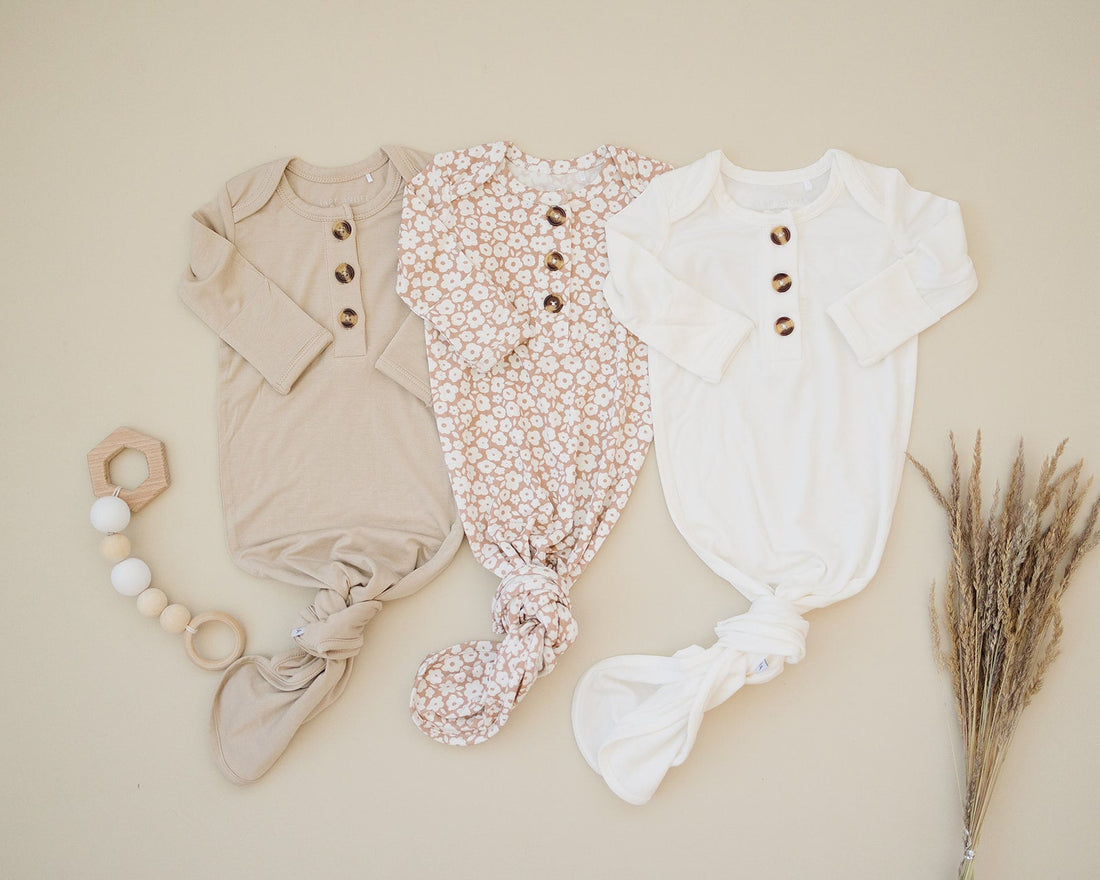 The Benefits of Knotted Baby Gowns for Your Growing Infant
As a parent, dressing your little one in adorable and comfortable outfits is a top priority. When it comes to selecting the perfect baby outfits, knotted baby gowns are an excellent choice.
These versatile and trendy garments offer a range of benefits for your growing infant, ensuring they stay happy and cozy throughout the day. Let's explore the many advantages of knotted baby gowns and why they should be a staple in your baby's wardrobe.
Advantages of Knotted Baby Gowns
Convenient
First and foremost, knotted baby gowns are incredibly convenient. The knots at the bottom of the gown can be easily undone and re-tied, allowing for hassle-free diaper changes. Unlike traditional baby outfits with snaps or buttons, these gowns eliminate the need for fumbling in the dark during those late-night changes.
Simply untie the knot, change the diaper, and re-tie the knot – it's that simple. This convenience not only saves time but also minimizes disturbances to your sleeping baby, ensuring they have a peaceful slumber.
Comfortable
Another benefit of knotted baby gowns is their unmatched comfort. Made from soft and breathable fabrics, these gowns provide your baby with ultimate coziness. The loose fit of the gown allows for unrestricted movement, promoting healthy physical development.
Additionally, the knotted bottom provides ample room for your baby's legs to kick and stretch, enhancing their muscle strength and coordination. With knotted baby gowns, you can rest assured that your little one will be comfortable and happy throughout the day.
Versatility and Style
One of the most exciting aspects of knotted baby gowns is their versatility and style. With a wide range of colors, patterns, and designs available, you can easily find the perfect gown to match your baby's personality.
Whether you prefer pastel hues, bold prints, or classic neutrals, there is a knotted baby gown out there for everyone. Not only are these gowns fashionable, but they also make your baby look irresistibly adorable. Imagine your little one sporting a cute knotted baby gown – it's sure to melt hearts everywhere you go.
Seasonal
Knotted baby gowns are also great for all seasons. During colder months, you can layer them with cozy blankets or leggings to keep your baby warm and snug. When the weather gets warmer, the lightweight and breathable fabrics of these gowns ensure optimal airflow, preventing your baby from overheating.
This adaptability makes knotted baby gowns an excellent investment, as they can be worn year-round, saving you money and closet space.
In addition to the aforementioned benefits, knotted baby gowns are also a practical choice for new parents. The easy slip-on feature reduces the need for complex dressing techniques, making it ideal for those still mastering the art of dressing a wriggling baby.
Moreover, the stretchy materials used in these gowns accommodate your baby's ever-changing size, ensuring a perfect fit every time. This eliminates the need for frequent shopping trips or constantly updating your baby's wardrobe.
Frequently Asked Questions:
Q1: What is a baby knotted gown?
A1: A baby knotted gown is a one-piece garment designed specifically for newborns and infants. It features an open bottom and long sleeves, with a knot or tie at the bottom that allows easy diaper changes.
Q2: Are baby knotted gowns safe for newborns?
A2: Yes, baby knotted gowns are considered safe for newborns. They are designed to be comfortable, breathable, and gentle on the baby's delicate skin.
Q3: What are the benefits of using a baby knotted gown?
A3: Baby knotted gowns offer convenience for diaper changes, as they eliminate the need to remove the entire outfit. They also provide easy access to medical procedures and promote fuss-free dressing.
Q4: Are baby knotted gowns suitable for all seasons?
A4: Yes, baby knotted gowns are suitable for all seasons. They can be layered with other clothing during colder months or worn alone in warmer weather.
Q5: How do I tie the knot on a baby knotted gown?
A5: To tie the knot, simply gather the excess fabric at the bottom of the gown and tie it into a loose knot. Ensure it is not too tight, allowing space for the baby's legs to move comfortably.
Conclusion
Knotted baby gowns offer numerous benefits for your growing infant. From the convenience and comfort they provide to their style and versatility, these gowns are a must-have for any parent.
These trendy and versatile garments offer numerous benefits for your growing infant. From their convenience during diaper changes to their comfort and style, knotted baby gowns should be a staple in your baby's wardrobe.
With their easy diaper changes, comfortable fit, and fashionable designs, knotted baby gowns give you peace of mind and make dressing your little one a joyous experience. Embrace the convenience, comfort, and style of knotted baby gowns, and watch your baby blossom in comfort and fashion.
Investing in these adorable garments will not only keep your baby happy and cozy but will also make dressing them a breeze. So, why wait? Embrace the versatility and trendy appeal of knotted baby gowns and watch your little one twinkle with excitement in their fashionable baby outfit.
Harp Angel Boutique is a boutique that caters for little ones and their stylish parents looking for only the best for their precious ones. Our baby boutique is dedicated to providing the finest clothing and accessories for babies, and providing parents with the assurance their little ones will be dressed in comfort and style.
From delicate blankets and cozy cribsheets to adorable hats, bibs, and shoes, every item is carefully selected to reflect a blend of comfort, quality, and irresistible charm. With a focus on natural fabrics and delightful designs, Harp Angel Boutique creates a magical experience for both parents and their precious bundles of joy. Shop online and embark on a journey of discovery in the world of organic baby fashion.