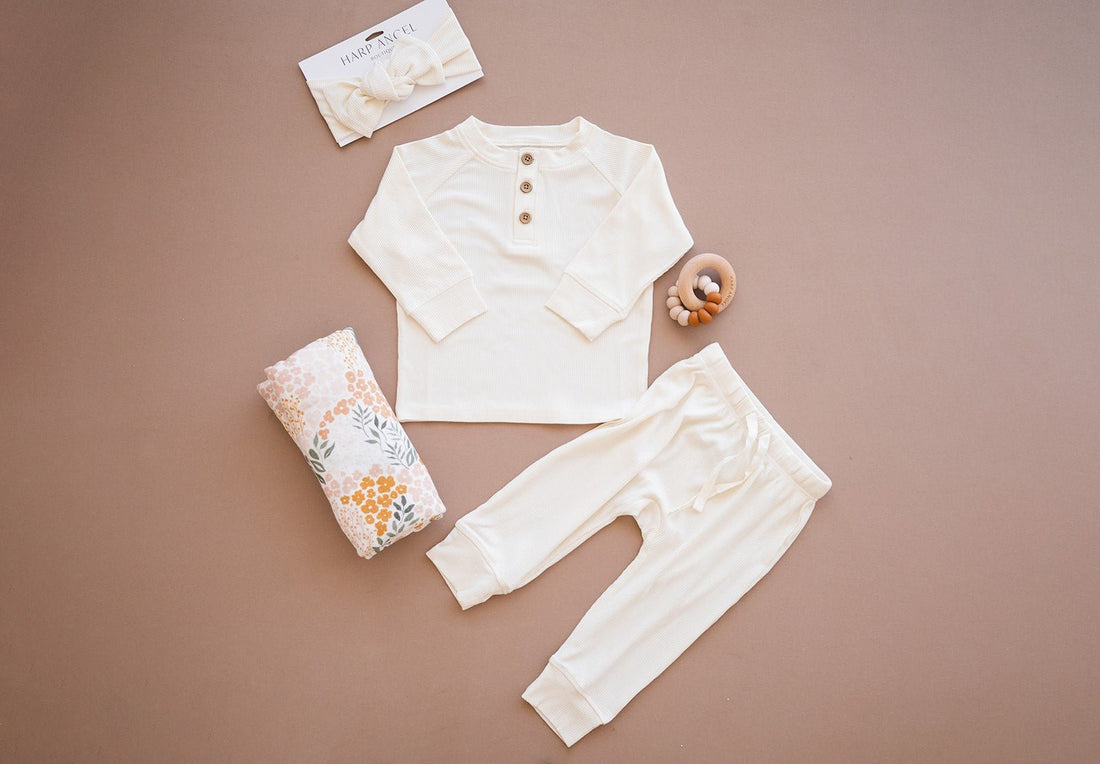 How To Choose The Perfect Baby Outfits For Any Season
As a new parent, one of the most exciting experiences is dressing up your adorable bundle of joy in charming and comfortable baby outfits. From those precious newborn days to the adventurous toddler years, finding the perfect baby outfits for each season becomes a delightful journey. 
The key lies in combining style, comfort, and practicality to ensure your little one is ready to conquer any weather. In this comprehensive guide, we'll walk you through the art of selecting the ideal baby outfit for every season, ensuring your baby looks and feels its best year-round.
1. Understanding Seasonal Needs:
The first step in choosing the perfect baby outfit is understanding the unique requirements of each season:
Spring:

Opt for lightweight and breathable fabrics like cotton and bamboo. Layering is key as temperatures can fluctuate. Include a mix of short and long-sleeved options.

Summer:

Choose light, airy fabrics that provide sun protection. Sun hats and sunglasses are essential for outdoor activities. Keep outfits loose-fitting and comfortable.

Fall:

Embrace cozy layers with sweaters, cardigans, and light jackets. Select warm fabrics like fleece and soft cotton to keep your baby snug during cooler temperatures.

Winter:

Invest in insulated outerwear such as snowsuits or coats. Use thermal layers and accessories like mittens and booties to ensure your baby stays warm.
2. Prioritize Comfort:
Comfort is paramount when selecting baby outfits. Look for clothing with soft seams, breathable materials, and adjustable closures that accommodate growth spurts.
3. Consider Baby's Mobility:
As your baby grows and becomes more active, prioritize outfits that allow for easy movement. Stretchy fabrics and designs that don't restrict mobility are key.
4. Dressing for the Occasion:
Consider the activities and occasions your baby will be participating in. Casual playdates, formal events, or even bedtime all require different types of clothing.
5. Layering Strategy:
Layering is your best friend in any season. It allows you to adjust your baby's clothing according to changing temperatures. Invest in bodysuits, onesies, and light sweaters that can be easily layered.
6. Accessorize Thoughtfully:
Accessories can enhance both style and function. Sunhats, scarves, and headbands not only complete the look but also provide added protection from the elements.
7. Embrace Versatility:
Choose baby outfits that can be mixed and matched with ease. Opt for neutral colors and classic patterns that allow for a wide range of combinations.
8. Consider Care Instructions:
Check the care instructions for each outfit before purchasing. Machine-washable and durable fabrics are practical for busy parents.
9. Size Matters:
Babies grow rapidly, so it's important to choose outfits that allow for growth. Avoid overly tight or restrictive clothing that might become uncomfortable.
10. Trust Your Instincts:
Ultimately, you know your baby best. Trust your instincts and choose outfits that resonate with your personal style and your baby's comfort.
11. Shop Mindfully:
When shopping for baby outfits, consider the quality of materials and craftsmanship. Opt for trusted brands that prioritize safety and adhere to high standards in their production processes.
12. Weather-Appropriate Fabrics:
Choosing the right fabrics for each season is crucial. Lightweight and breathable fabrics like cotton are perfect for summer, while warmer options like fleece or wool are ideal for colder months.
13. Easy On and Off:
Babies can be squirmy during changing times. Look for baby outfits with snaps, zippers, or stretchy necklines that make dressing and undressing a breeze.
14. Pay Attention to Details:
Small details can make a big difference. Check for covered feet or fold-over mittens on baby sleepers to keep your little one cozy and warm.
15. Plan Ahead:
Keep in mind that babies tend to outgrow their clothes quickly. Purchase a mix of sizes to ensure you have outfits ready for growth spurts.
16. Personalized Touches:
Consider adding personalized touches to your baby's outfits, such as monogramming or custom embroidery, to make their wardrobe truly special.
17. Sustainable Choices:
Opt for eco-friendly and sustainable baby outfits made from organic materials or upcycled fabrics. By doing so, you contribute to a healthier planet for your child's future.
18. Stay Organized:
Organize your baby's wardrobe by season to make it easy to find the appropriate outfits when needed. This also helps you keep track of which items may need to be replaced due to growth.
19. Keep Safety in Mind:
Avoid outfits with small buttons, bows, or other choking hazards. Baby safety should always be a top priority.
20. Mix and Match:
Get creative with mixing and matching different pieces to create adorable and unique outfits. This not only adds variety to your baby's wardrobe but also extends the usability of each piece.
Conclusion
Start creating a wardrobe that captures your baby's unique personality and keeps them comfortably ready for every adventure. From cute rompers and versatile onesies to cozy jackets and charming accessories, you'll find everything you need to dress your little one in outfits that reflect your love and care.
Don't miss out on the joy of selecting the perfect baby outfits that will accompany your little ones through their early years. Visit our website [Website URL] today and explore a world of style, comfort, and endless smiles. Your baby's perfect wardrobe awaits – start building it today!
Selecting the perfect baby outfit for any season requires a blend of practicality, comfort, and style. By understanding seasonal needs, prioritizing comfort, and considering factors like mobility and versatility, you can curate a charming and functional wardrobe that ensures your baby is ready to face the world in every weather. Embrace the joy of dressing up your little one while ensuring they are cozy, stylish, and well-prepared for any seasonal adventure.
From delicate blankets and cozy crib sheets to adorable hats, bibs, and shoes, every item is carefully selected to reflect a blend of comfort, quality, and irresistible charm. With a focus on natural fabrics and delightful designs, Harp Angel Boutique creates a magical experience for both parents and their precious bundles of joy. Shop online and embark on a journey of discovery in the world of organic baby fashion.