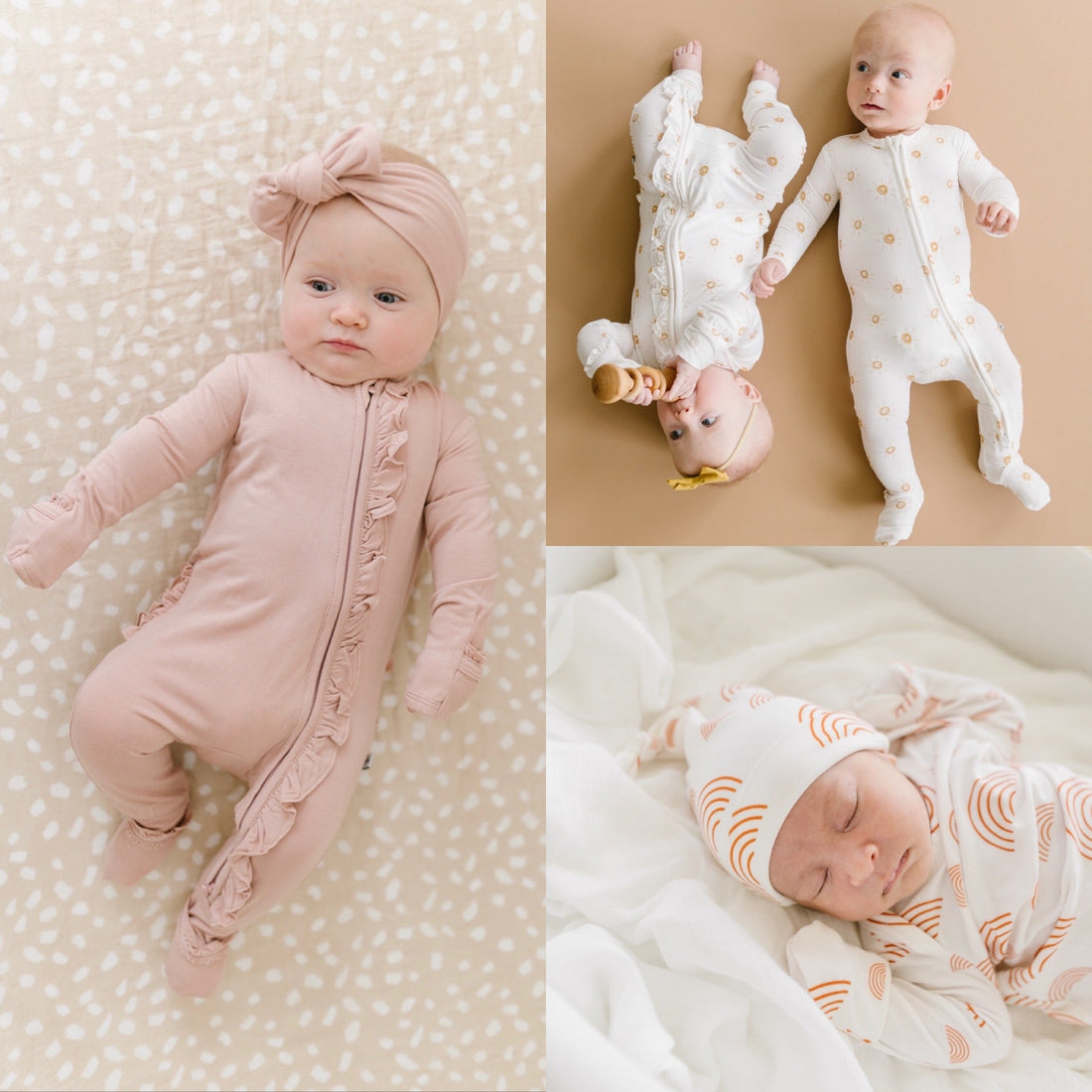 9 Unique benefits of bamboo baby clothes
In recent years, bamboo has become a very popular eco-material for baby products, especially baby clothes. And for good reason: bamboo clothes are super soft, highly breathable, hypoallergenic, very durable, and come with natural antibacterial properties. They are also stretchy, moisture-absorbent, and protect against UV rays.
If you are an eco-conscious parent, choosing bamboo clothes for your little one will be one of the most eco-friendly decisions you'll ever make. Here is a look at some of the benefits you and your little one can reap from bamboo clothes.
Why choose bamboo products?
Bamboo is an incredibly eco-friendly material that has an almost zero negative impact on the planet. It is also extremely versatile, which means it can be turned into almost any baby product you can think of, from onesies to crib sheets and everything in between.
Bamboo also needs no harmful chemicals to grow. As it grows, it improves the soil quality it grows in. All while absorbing carbon dioxide from the air and converting it into oxygen.
Apart from that, bamboo is also a highly sustainable plant. It regrows extremely quickly when harvested. Plus, it has a wide range of natural properties, including being moisture-wicking, antimold, antibacterial, and hypoallergenic.
Bamboo products are also 100% biodegradable, more durable, and more breathable than other conventional materials.
Benefits of bamboo baby clothes
Bamboo baby clothes are super soft
Bamboo has natural ultra-soft fibers that make it soft and gentle on your baby's delicate skin. This means your little one will get to be all cozy and comfy throughout the day when wearing bamboo clothes.
Bamboo baby clothes are highly breathable
Because of the porosity of bamboo fibers, bamboo fabric is naturally porous and highly breathable. This allows bamboo clothes to thermal regulate your little one's body, allowing them to avoid getting too hot or too cold as they play or sleep. This is the main reason why it is such a popular choice for bamboo swaddle blanket.
Bamboo baby clothes are moisture absorbent
Bamboo naturally absorbs and evaporates sweat from your little one's skin. This opens up your baby's pores, making them more comfortable and less prone to skin issues like rashes.
Bamboo baby clothes are eco-friendly
Babies can go through a lot of clothes within a few months. Because bamboo is 100% biodegradable, choosing bamboo allows you to avoid negatively impacting the environment when your little one no longer needs the clothes. Plus, bamboo is highly sustainable and requires no toxic chemicals to grow.
Bamboo baby clothes are antibacterial
Bamboo's antibacterial properties will allow your little one to stay sweat-free and odorless. This prevents the growth of bacteria deposits on their skin, which often leads to fungal infections like eczema in babies. This makes bamboo baby clothes a great choice for baby's first clothes.
Bamboo baby clothes are hypoallergenic
With bamboo clothes, you can finally worry less about allergies. Because of its softness, bamboo will not rub or itch your baby's skin, so you can say goodbye to all those surprise rashes.
Bamboo baby clothes are stretchy
As your little one starts to get more mobile, they'll need stretchier clothes. All the playing, crawling, and rolling around rubs skin against skin, irritating it. With bamboo clothes, this friction is minimized, which means your little one can be as active as they like without being uncomfortable.
Bamboo baby clothes are durable
With proper care, bamboo clothes will stay tough and last many years. Because of this, bamboo baby clothes make great hand-me-downs, so hold on to them in case you're planning to have another little one someday!
Bamboo baby clothes come with natural UV protection
Bamboo fabric has natural UV protection properties. This means bamboo clothes can protect your little one's skin from UPF 20 to UPF 50, reducing the risk of sunburn as your little one has fun in the sun. Of course, you should always still take normal precautions to protect your baby's skin from the sun, but with bamboo clothes, you will be able to worry a little less.
Final Thoughts
As you can see, bamboo baby clothes are the clear choice for eco-conscious parents. With them, your little one will get to stay warm while being protected from bacteria and allergies by an extra soft, breathable fabric that is kind and gentle to their delicate skin.
At Harp Angel Boutique, we love bamboo because the entire manufacturing process of our bamboo products, from harvesting to shipping, has a carbon neutral impact on the environment. Because bamboo is a fast-growing grass, it needs no fertilizers or pesticides. Plus, it absorbs greenhouse gases and converts them to oxygen.
All our products are strong, durable, and completely safe for your little one's delicate skin. Combined with all the other amazing benefits in this list, what's not to love about bamboo baby clothes?